Fiction

Three Sea Stories; Typhoon, Falk & The Shadow Line by Joseph Conrad
Conrad is our greatest writer of the sea and in these three sea stories, based on his own experience, the author invests his portraits of mundane steamers and their crews with epic qualities of fortitude and courage in the face of overwhelming natural odds. Many chronicles have been written about life at sea, but few, if any, can compare with Joseph Conrad's masterpiece. 
---


The Old Man and the Sea by Ernest Hemmingway
The sea as a metaphor for the futility of life, but with authentic boatmanship detail.  Set in the Gulf Stream off the coast of Havana, Hemingway's magnificent fable is the story of an old man, a young boy and a giant fish. Not a single word is superfluous in this widely admired masterpiece, which once and for all established his place as one of the giants of modern literature.
---

The Riddle of the Sands by Erskine Childers
Childers's lone masterpiece, The Riddle of the Sands, considered the first modern spy thriller, is recognisable as the brilliant forerunner of the realism of Graham Greene and John le Carre. Its unique flavour comes from its fine characterization, richly authentic background of inshore sailing and vivid evocation of the late 1890s - an atmosphere of mutual suspicion and intrigue that was soon to lead to war.
---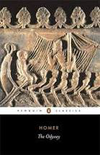 The Odyssey by Homer
Heading off on a round-the-world adventure? Use those long ocean crossings to tackle Homer's epic The Odyssey. The famous poem - the second oldest piece of literature in the Western world - is the original sea-faring feat with the hero, Odysseus, coming up against sirens, the six-headed sea monster Scylla and the god Poseidon in his decade-long effort to return to his wife and child. 
---

Treasure Island by Robert Louis Stevenson
The most popular pirate story ever written in English, featuring one of literature's most beloved "bad guys," Treasure Island has been happily devoured by several generations of boys—and girls—and grownups. Its unforgettable characters include: young Jim Hawkins, who finds himself owner of a map to Treasure Island, where the fabled pirate booty is buried.  The unexpected and complex relationship that develops between Silver and Jim helps transform what seems at first to be a simple, rip-roaring adventure story into a deeply moving study of a boy's growth into manhood, as he learns hard lessons about friendship, loyalty, courage and honor—and the uncertain meaning of good and evil
---
The Secret Sharer by Joseph Conrad
A young man sets out on his first voyage as captain, aboard a vessel and among a crew that are equally unfamiliar to him. A mysterious night-swimmer climbs aboard, and, in keeping the presence of this fugitive a secret, the skipper risks both his captaincy and the safety of his ship. No one understands the inter-relation of the sea and the soul better than Conrad. This novella is an excellent introduction to his work.
---

We Didn't Mean to Go to Sea (Swallows And Amazons) by Arthur Ransome
The Swallows find the sea is very different from lake sailing (as growing up is from childhood). Crossing the North Sea in a gale is vividly conveyed. A true sailing classic for any age.  
---

Lord Jim by Joseph Conrad
Thought to be based on the true events of the abandonment of the S.S. Jeddah in 1880, Conrad's Lord Jim tells the story of a young seafarer who becomes the first mate on board passenger ship the Patna. The ship, full of Muslim pilgrims on their way to Mecca, begins to take on water and Jim and his fellow crew members abandon the pilgrims to almost certain death. However, when the passengers are rescued Jim finds himself being held solely responsible for the incident and is stripped of his navigation command certificate. Haunted by his moment of weakness, Jim moves around Asia simultaneously running from and trying to come to terms with his past.
---

Life of Pi by Yan Martel 
The most modern book in our round-up, Yann Martel's Man Booker Prize winning fantasy novel tells the story of Piscine Molitor 'Pi' Patel. After his boat is shipwrecked in the Pacific Ocean, Pi survives 227 days stranded in a lifeboat with Richard Parker - a Bengal tiger. Having sold over 10 million copies worldwide, Life of Pi reached even greater heights of fame in 2012 when it was adapted into an Oscar-winning feature film directed by Ang Lee.
---

Biography & non fiction

One Wild Song by Paul Heiney
When British television presenter Paul Heiney's son, Nicholas, committed suicide at age 23, Paul and his wife, Sunday Times columnist Libby Purves, were rocked to the core. Nicholas was a keen sailor, with several of his posthumously-published writings having a nautical theme. To try to reconnect with this happier memory of his son, Paul decides to set out - alone - on a voyage he would have liked them to have embarked upon together. Paul's account of setting his own course through seemingly insurmountable grief makes for a powerful story. Injected with humour, perceptiveness and philosophy, recounting his highs, lows, frustrations and triumphs, the honesty and openness of Paul's story makes this very personal account a universal tale.
---
Team Spirit by Brendan Hall
The Clipper Round the World Yacht Race is the ultimate long distance challenge - a 35,000-mile circumnavigation of the globe, contested by amateur crews in identical racing yachts. The 2010 winner was 28-year-old Brendan Hall and his crew in Spirit of Australia. Although Brendan was the youngest and least experienced skipper in the race, the win was no accident - it was the culmination of years of training, skilled navigation and a leadership style way beyond his years. His skills were soon put to the test - in the middle of a North Pacific hurricane, Brendan went to the rescue of a competing yacht and skippered both boats across one of the most feared oceans in the world. This brutally honest, no-holds-barred account is revealing and instructive, with valuable lessons in leadership and management - as well as never giving up. 
---

Maiden Voyage by Tania Aebi and Bernadette Brenn
Tania Aebe was an eighteen-year-old dropout and barfly. She was going nowhere until her father offered her a challenge. He would offer her either a college education or a twenty-six-foot sloop in which she had to sail around the world alone. She chose the boat and for two years it was her home, as she negotiated weather, illness, fear, and ultimately, a spiritual quest that brought her home to herself.
---

Addicted to Adventure by Bob Shepton
Bob Shepton is an ordained minister in the Church of England in his late 70s, but spends most of his time sailing into the Arctic and making first ascents of inaccessible mountains. No tea parties for this vicar. Opening with the disastrous fire that destroyed his yacht whilst he was ice-bound in Greenland, the book travels back to his childhood growing up on the rubber plantation his father managed in Malaysia, moving back to England after his father was shot by the Japanese during the war, boarding school, the Royal Marines, and the church. We then follow Bob as he sails around the world with a group of schoolboys, is dismasted off the Falklands, trapped in ice, and climbs mountains accessible only from iceberg-strewn water and with only sketchy maps available. Bob Shepton, winner of the 2013 Yachtsman of the Year Award, is an old-school adventurer, and this compelling book is in the spirit of sailing mountaineer HW Tilman, explorer Ranulph Fiennes, climber Chris Bonington and yachtsman Robin Knox-Johnston, all of whom have been either friends of Bob's or an inspiration for his own exploits. 
---

Taking on the World by Ellen MacArthur
When Ellen finished the Vendee Globe, yachting's toughest race aged just 24 the nation took her to it's heart. The depth of the affection for Ellen is extraordinary - she makes people feel like they can do anything! This is her story, written in true Ellen style, in her own words, without the help of a ghost writer. Passionate, dramatic and deeply affecting, her story will move and inspire all who read it.
---

Close to the Wind by Pete Goss
Pete Goss became a national and international hero when he rescued French yachtsman Raphael Dinelli as his boat sank beneath him in the round-the-world single-handed sailing race, the Vendee Globe, on Christmas Day 1996. In doing so Pete scuppered his own chances in the race but was awarded the Legion d'Honneur by France's president and made a friend for life in Dinelli. Close to the Wind is his own story of the race and its dramas, his revolutionary boat, Aqua Quorum, his thoughts and emotions during four months of solitude at sea, the extraordinary surgery that he had to perform on his own elbow and the aftermath of the rescue in the Southern Ocean.
---

Greatest Sailing Stories Ever Told by Christopher Caswell
For thousands of years, man has sailed into battle, sailed for rumoured wealth, and sailed for pure adventure. And for nearly as long, stories about the sea have entertained, intrigued, and inspired readers. The Greatest Sailing Stories Ever Told brings together some of the most compelling writing of the millennium. Here is Peter Goss's wrenching narrative of incredible courage in the world's most desolate ocean; Ernest Shackleton's understated and awesome account of one of the most daring small-boat journeys ever taken, where failure meant certain death for his long-suffering crew. But sailing is much more than headlong dashes into roaring seas. You'll also find William F. Buckley Jr. on idyllic cruising; James Thurber on the arcane and often impenetrable language of sailors; the legendary Joshua Slocum on sailing alone around the world. The Greatest Sailing Stories Ever Told is a treasure trove: tears, adrenaline, laughter, and adventure abound. 
---

Endurance: Shackleton's Incredible Voyage to the Antarctic by Alfred Lansing
The story of one of the most astonishing feats of exploration and human courage ever recorded. In 1914 Sir Ernest Shackleton and a crew of 27 men set sail for the South Atlantic on board a ship called the Endurance. The object of the expedition was to cross the Antarctic overland. In October 1915, still half a continent away from their intended base, the ship was trapped, then crushed in the ice.
For five months Shackleton and his men, drifting on ice packs, were castaways on one of the most savage regions of the world. This utterly gripping book, based on first-hand accounts of crew members and interviews with survivors, describes how the men survived, how they lived together in camps on the ice for 17 months until they reached land, how they were attacked by sea leopards, the diseases which they developed, and the indefatigability of the men and their lasting civility towards one another in the most adverse conditions conceivable.
---

South Sea Vagabonds by John Wray
A gripping and often hilarious account of his adventures around the South Pacific has inspired readers and changed lives since its first publication 75 years ago. Fired from his day job during the Great Depression, Johnny begged, borrowed and stole the materials to build his famous yacht Ngataki. With some mates for company and a sextant to steer by, he set sail for the palm-fringed atolls and islands of his dreams - to discover they really did exist. But South Sea Vagabonds is much more than just a ripping yarn; it is a heartfelt hymn to the possibility of living a free life and truly being the master of one's own destiny.
---

Shackleton's Boat Journey by Frank Arthur Worsley
Frank A. Worsley was the Captain of the H. M. S. Endurance, the ship used by the legendary explorer Sir Ernest Shackleton in his 1914-16 expedition to the Antarctic. On its way to the Antarctic continent the Endurance became trapped and then crushed by ice, and the ship's party of twenty-eight drifted in an ice floe for five months. Finally reaching an uninhabited island, Shackleton, Worsley and four others sailed eight hundred miles in a small boat to the island of South Georgia, an astounding feat of navigation and courage. All hands survived this ill-fated expedition; as Worsley writes, "By self-sacrifice and throwing his own life into the balance, (Shackleton) saved every one of his men...although at times it looked unlikely that one could be saved."
---

The Strange and Last Voyage of Donald Crowhurst by Nicholas Tomalin and Ron Hall
In 1968, Donald Crowhurst was trying to market a nautical navigation device he had developed, and saw the Sunday Times Golden Globe round the world sailing race as the perfect opportunity to showcase his product. Few people knew that he wasn't an experienced deep-water sailor. His progress was so slow that he decided to short-cut the journey, while falsifying his location through radio messages from his supposed course. Everyone following the race thought that he was winning, and a hero's welcome awaited him at home in Britain. But on 10 July 1968, eight months after he set off, his wife was told that his boat had been discovered drifting in mid-Atlantic. Crowhurst was missing, assumed drowned, and there was much speculation that this was one of the great mysteries of the sea. In this masterpiece of investigative journalism, Nicholas Tomalin and Ron Hall reconstruct one of the greatest hoaxes of our time. 
---

Once is Enough by Miles Smeeton
This timeless classic is an exciting true story of survival against all odds. 'There was a sudden sickening sense of disaster. Miles Smeeton and his wife Beryl sailed their 46-ft Bermuda ketch, Tzu Hang, in the wild seas of Cape Horn, following the tracks of the old sailing clippers through the world's most notorious waters. This is an exciting true story of survival against all odds, but it is also a thoughtful book which provides hard-learned lessons for other intrepid sailors. As Nevil Shute writes in his foreword: 'It has been left to Miles Smeeton to tell us in clear and simple language just where the limits of safety lie.'
---

A World of My Own by Robin Knox-Johnson
On Friday 14 June 1968 Suhaili, a tiny ketch, slipped almost unnoticed out of Falmouth harbour steered by the solitary figure at her helm, Robin Knox-Johnston. Ten and a half months later Suhaili, paintwork peeling and rust-streaked, her once white sails weathered and brown, her self-steering gone, her tiller arm jury-rigged to the rudder head, came romping joyously back to Falmouth to a fantastic reception for Robin, who had become the first man to sail round the world non-stop single-handed. By every standard it was an incredible adventure, perhaps the last great uncomputerised journey left to man. Every hazard, every temptation to abandon the astounding voyage came Robin's way, from polluted water tanks, smashed cabin top and collapsed boom to lost self-steering gear and sheered off tiller, and all before the tiny ketch had fought her way to Cape Horn, the point of no return, the fearsome test of any seaman's nerve and determination. A World of My Own is Robin's gripping, uninhibited, moving account of one of the greatest sea adventures of our time. An instant bestseller, it is now reissued for a new generation of readers to be enthralled and inspired.
---

Alone through the Roaring Forties by Vito Dumas
Dumas's wartime voyage from Argentina eastward around the globe in the 31-foot canoe-sterned ketch Lehg II. By any measure, it was a remarkable, unprecedented voyage over what Dumas justly called "the impossible route" - south of the Cape of Good Hope, south of Australia, south of Cape Horn. Leaving Buenos Aires in June 1942, he made the 20,000-mile voyage singlehanded, becoming the first to do so. He was also the first solo sailor to round Cape Horn and survive, and the first to sail around the world with only three landfalls.
---

Left for Dead by Nick Ward
In August of 1979, Nick Ward began the six-hundred-mile course of the UK's Fastnet Race with perfect weather. Within forty-eight hours, the deadliest storm in the history of modern sailing had blasted through the Irish Sea, throwing one of the world's most prestigious races into bedlam and taking the lives of fifteen sailors. Ward's boat, Grimalkin, was capsized again and again, and the skipper lost overboard; after hours of struggle, three of the crew fled the boat for the liferaft, and Nick was left alone to face down a storm that has become legendary among sailors and racing fans alike. Left for Dead is Nick Ward's harrowing and inspirational memoir of how he survived that dreadful night-the untold true story of an accident that has intrigued lovers of the sea for almost thirty years.
---

The Long Way by Bernard Moitessier
The Long Way is Bernard Moitessier's own incredible story of his participation in the first Golden Globe Race, a solo, non-stop circumnavigation rounding the three great Capes of Good Hope, Leeuwin, and the Horn. For seven months, the veteran seafarer battled storms, doldrums, gear-failures, knock-downs, as well as overwhelming fatigue and loneliness. Then, nearing the finish, Moitessier pulled out of the race and sailed on for another three months before ending his 37,455-mile journey in Tahiti. Not once had he touched land.
---

The Lonely Sea and The Sky by Sir Francis Chichester
The complete autobiography of the great adventurer Sir Francis Chichester, the first and fastest man to singlehandedly circumnavigate the globe. Aged 18 and with a taste for adventure, Francis Chichester emigrated to New Zealand with ten pounds in his pocket. He tried his hand at a number of ill-fated careers -a boxer, shepherd, lumberjack, and gold prospector, to name a few before returning to England. Having qualified as a pilot, in 1929 he embarked on his most famous solo flight in the de Havilland Gipsy Moth from England to Australia. Shortly afterward, he survived a near-death catastrophe in an attempt to fly solo around the world. Turning to sailing, he won the first single-handed transatlantic yacht race in Gipsy Moth III, despite having been diagnosed with cancer two years previously. In 1967, he became the first person to sail around the world solo from west to east via the great capes. Here, his entire life - including his greatest failures and successes - are told by the man who experienced it all first hand. A foreword from his son, Giles Chichester, is also included.
---

Desperate Voyage by John Caldwell
In May 1946 John Caldwell set out to sail from Panama to Sydney to reunite with his wife who he hadn't seen for more than a year. Eager to reach his destination and unable to secure any other form of transport, he had to resort to singlehanded seamanship. After an ignominious scene in the harbor, where a tangled anchor led him to take an early dip, he spent ten days learning the rudiments of navigation and sailing from a book, before embarking on the 9,000 mile journey aboard the 20-foot Pagan. Ahead lay a mission that was to reveal in him elements not only of astounding courage and determination, but also of incredible foolhardiness. Within 500 miles of Panama John Caldwell had already been shipwrecked once and had his boat's engine and cockpit destroyed by an angry shark. Indefatigable, he decided to press on towards his goal.He endured the terrors and discomforts of life on the high seas and enjoyed the triumphs of fighting and winning against the elements. This is more than an exciting tale of sea-adventure. It is as compelling and unpredictable as a thriller. It is the story, witty and moving, of a man, motivated initially by love, and ultimately by his own fierce determination to survive.
---

Sea Change by Peter Nichols
With only a sextant, his instincts as a seasoned sailor, and a boat filled with memories of his floundering marriage, Peter Nichols sets out on a solo voyage from England to Maine, where he plans to sell his beloved, twenty-seven-foot, engineless boat, Toad.Halfway across the ocean, his boat springs a leak and his voyage becomes a desperate struggle to survive. Filled with intelligence, bravery and humor, Sea Change is a thrilling adventure story. It is a classic tale of a man struggling to come to terms with his reckless spirit, his highest hopes, and his broken dreams. 
---

Atlantic High by William F Buckley, Jr
Ostensibly the tale of his 1980 voyage across the Atlantic Ocean, this is an extended meditation on the pleasures of sailing and good company. Not surprisingly, as much thought seems to have gone into stocking the wine cellar as to charting out the route. This is an essay on appreciation, and a chance for Buckley to share his spirited point of view and exercise his unique sense of humor. A work as hard to categorize as Buckley himself, Atlantic High offers a glimpse into the good life on the high seas.

Airborne: A sentimental journey by William F Buckley, Jr
A wonderful mishmash of sailing and adventure that's just an easy, fun read. WFB (as he calls himself) is a great storyteller and he has great stories to tell. And the language, the vocabulary, is exquisite. He interrupts his narrative to insert the logs of others, especially son Christopher, a wonderful but very different writer himself. And then there's this Moby Dick-style insertion of what he claims is an easy how-to on celestial navigation, which of course is far from easy.
---

The Last Grain Race by Eric Newby
In 1938 an eighteen-year-old boy signed on for the round trip from Europe to Australia in the last commercial sailing fleet to make that formidable journey. The four-masted barque Moshulu ended up as a dockside restaurant in Philadelphia; the young apprentice went on to become one of the greatest travel writers of this century. The Last Grain Race is Eric Newby's spell-binding account of his time spent on the Moshulu's last voyage in the Australian grain trade. As always, Eric Newby's sharp eye for detail captures the hardships, danger, squabbles, companionship and sheer joy of shipboard life - bedbugs, ferocious storms, eccentric Finnish crew and all. By pure chance, Eric witnessed the passing of the era of sail, and his tale is all the more significant for being the last of its kind.
---

Mischief in Patagonia by HW Tilman
So I began thinking again of those two white blanks on the map, of penguins and humming birds, of the pampas and of gauchos, in short, of Patagonia, a place where one was told, the natives' heads steam when they eat marmalade.' So responded H. W. 'Bill' Tilman to his own realisation that the Himalaya were too high for a mountaineer now well into his fifties. He would trade extremes of altitude for the romance of the sea with, at his journey's end, mountains and glaciers at a smaller scale; and the less explored they were, the better he would like it. Within a couple of years, he had progressed from sailing a 14-foot dinghy to his own 45-foot pilot cutter Mischief, readied her for deep-sea voyaging, and recruited a crew for this most ambitious of private expeditions.
---

The Falcon on The Baltic by E F Knight
The Falcon on the Baltic is an English gentleman's narrative of his 1886 cruise in a small, shallow-draft boat from England across the North Sea through the canals of Holland and Germany into the Baltic.  Davies, in The Riddle of the Sands, had this book on the Dulcibella's bookshelf. What higher recommendation? Across the North Sea and onwards in a converted ship's lifeboat.
---

Isabel & the Sea by George Millar
"George's seemingly magical powers of description gives us an accurate record of how one couple, with much fortitude, resolution and joie de vivre, skilfully managed to turn the difficult post-war period in Europe to their own advantage."  Peter Bruce
In the summer of 1946, George and his young landlubber bride Isabel set sail in Truant, a 49 foot converted Looe lugger, crossing the Channel to a war-torn Le Havre. From there they sailed up the River Seine to Paris, before threading their way through the French canal network, down the River Rhine and into the Mediterranean at Marseilles.
In 1946 the evidence of war was commonplace. Sunken ships obstructed harbour mouths and passage planning was made hazardous by Isabel gaily throwing overboard the chart showing the position of minefields off the Italian coast.Truant's final cruising ground was around the newly liberated Greek Islands, where George Millar's acutely observed descriptions of Greek social life offer a respite from Truant's increasingly temperamental engines.
---

Sopranino by Patrick Ellem & Colin Mude
The little boat that could – in this case, cross the Atlantic. Vastly popular and inspiring (and amusing) tale of that 1951 voyage in the eponymous Laurent Giles/Colin Mudie-designed Junior Offshore Group 19-footer.
---

One Summer's Grace by Libby Purves
In the summer of 1988, Libby Purves set sail with her family on a voyage round the entire coastline of Britain, from the soft, sandy South-East, to the wilder shores of Orkney. They travelled in the wake of their literary-nautical forebears aboard their modern-built gaffer, Grace O'Malley, with their children, Nicholas (five) and Rose (three). As conscious of curious anecdote and tragic folklore as she is of contemporary injustice and familial tension, Libby Purves evokes a fresh, rich and fascinating portrait of people and places.
---

Sailing Alone Around the World by Joshua Slocum
Joshsua Slocum spent a lifetime at sea. He ran away from his Nova Scotia home at the age of 14 and for the next 35 years he sailed the world holding every shipboard rank. When a ship under his command was wrecked on the coast of Brazil in 1887, it seemed that his maritime career had ended in disgrace. Not one for retiring to earthly pastures, Slocum rebuilt a hundred- year-old sloop and set off for Boston in 1895 on the first single-handed circumnavigation of the globe. For more than three years Slocum battled stormy seas, attacks from raiders and pirates and, of course, loneliness. He crossed the Atlantic no fewer than three times, spent weeks thrashing against the elements around Cape Horn, and found shelter in numerous exotic harbours. Sailing Alone around the World is the extraordinary story of one man's courage and resourcefulness, and has an enduring and universal appeal as a landmark of world adventure.
---

The Accidental Sailor by Rod Heikel
In 1976 Rod Heikell set off for the Mediterranean in Roulette, a 20-foot boat that should probably have never left sheltered waters. Via the French Canals and Biscay, he somehow got there and sailed to Corsica, Italy and on to Greece. This book records the near disasters, and highs and lows of a voyage which shaped his life in ways he never imagined. He became the accidental sailor and developed a life-long love of sailing and exploring the seas.
In 1987 he took Rozinante, a Mirror Offshore 18, down the Danube, behind the Iron Curtain to the Black Sea and Aegean, probably the longest voyages one of these tubby little craft has made. These were simple voyages on small yachts with minimal equipment that shaped what Rod was to do in ways he never envisaged. It's a mystery, an accident he is fond of saying when asked how it all started.
---

117 Days Adrift by Maurice Bailey and Maralyn Bailey
The Bailey's is a fantastic human story of adaption to totally alien conditions. It is a story of amazing courage, resolution and endurance. Essential reading for all who enjoy a gripping true story, 117 Days Adrift is an inspiring tale that has become one of the classics of the sea.
---

A Voyage for Madmen by Peter Nichols
Nine men set out to race each other around the world. Only one made it back … The Golden Globe solo, non-stop round-the-world race 1968-9 (nine entrants, one finisher, one bizarre, tragic death) continues to intrigue. It lay like a gauntlet thrown down; to sail around the world alone and non-stop. No one had ever done it, no one knew if it could be done. In 1968, nine men - six Englishmen, two Frenchmen and an Italian - set out to try, a race born of coincidence of their timing. One didn't even know how to sail. They had more in common with Captain Cook or Ferdinand Magellan than with the high-tech, extreme sailors of today, a mere forty years later. It was not the sea or the weather that determined the nature of their voyages but the men they were, and they were as different from one another as Scott from Amundsen. Only one of the nine crossed the finishing line after ten months at sea. The rest encountered despair, sublimity, madness and even death.
---

Adrift: Seventy - Six Days Lost at Sea by Steven Callahan
Before The Perfect Storm, before In the Heart of the Sea, Steven Callahan's dramatic tale of survival at sea was on the New York Times bestseller list for more than thirty-six weeks. In some ways the model for the new wave of adventure books, Adrift is an undeniable seafaring classic, a riveting firsthand account by the only man known to have survived more than a month alone at sea, fighting for his life in an inflatable raft after his small sloop capsized only six days out. Adrift is a must-have for any adventure library.
---

Gypsy Moth Circles the World by Frances Chichester
From time immemorial, few narrative genres have had the power to so stir the emotions or captivate the imagination as the true account of a lone adventurer's triumph over the titanic forces of nature. Among the handful of such tales to emerge in the twentieth century, one of the most enduring surely must be Sir Francis Chichester's account of his solitary, nine-month journey around the world in his 53-foot ketch Gipsy Moth IV. The story of how the sixty-five-year-old navigator singlehandedly circumnavigated the globe, the whole way battling hostile seas as well as his boat's numerous design flaws, is a tale of superhuman tenacity and endurance to be read and reread by sailors and armchair adventurers alike.
---

Fastnet, Force 10 by John Rousemaniere
It began in fine weather, then suddenly became a terrifying ordeal. A Force 10, sixty-knot storm swept across the North Atlantic with a speed that confounded forecasters, slamming into the fleet with epic fury. For twenty hours, 2,500 men and women were smashed by forty-foot breaking waves, while rescue helicopters and lifeboats struggled to save them. By the time the race was over, fifteen people had died, twenty-four crews had abandoned ship, five yachts had sunk, 136 sailors had been rescued, and only 85 boats had finished the race. John Rousmaniere was there, and he tells the tragic story of the greatest disaster in the history of yachting as only one who has sailed through the teeth of a killer storm can. 
---

Sea Legs: One Family's Year on the Ocean by Guy Grieve
Three years after his return from the Alaskan wilderness, Guy Grieve was living on the Isle of Mull in Scotland with his wife Juliet and their two young sons. Sick of the weather, perennial colds and their increasingly routine lifestyle, they'd all been getting restless. Finally, Guy and Juliet broke in spectacular style - they re-mortgaged their house and bought a yacht. Her name was Forever. The plan? To pick up Forever from her mooring in the Leeward Antilles off the coast of Venezuela, and sail around the West Indies before crossing the Atlantic back to Scotland. This was despite the fact that Guy, skipper of the expedition, had almost no sailing experience. Travelling around the lush tropical islands of the Caribbean and up the waterways of America, the family had countless sublime moments as they discovered the freedoms of sailing - anchoring in deserted bays, night passages under star-studded skies, and entering New York by water, greeted by the Statue of Liberty. But there were also testing times as they grappled with seasickness and bad weather, coping with young children at sea and learning to run a large, complex boat. Far from being the idyllic escape they'd envisaged, the journey forced Guy and Juliet to draw on reserves of courage and endurance they never knew they had. Wry, funny and buccaneering, this is a compelling tale of bravery and endeavour, out on the open sea.
---

Total Loss: Dramatic First-hand Accounts of Yacht Losses at Sea by Paul Gelder
An enthralling collection of 45 dramatic stories of yachts lost at sea, Total Loss has been a consistent bestseller since first publication. This fascinating new edition carries exciting first-hand accounts, including the tragic sinking of the yacht Ouzo, run down or swamped by a P&O ferry in the English Channel, the loss of Hooligan V, the sinking of two boats in the Atlantic after rudder failure, and the rescue of Pete Goss and his crew from the giant catamaran Team Philips. Here are tales of collisions with UFOs (unidentified floating objects), fire, explosion, exhaustion and crew failure, navigational blunders, capsize, gear failure, dismastings and severe storms. The moving, emotionally charged descriptions of shipwrecked sailors abandoning their yachts at sea will have you on the edge of your seat. But these accounts are more than just gripping tales of disaster - they carry valuable lessons which the survivors have been able to pass on to all who go to sea for pleasure. Every year, hundreds of yachts are lost at sea. For those who wish to avoid a similar fate, or learn how best to cope with emergencies, this book is a compelling, thought-provoking bunkside read.
---

A Passion for the Sea by Jimmy Cornell
One of the most influential cruising yachtsmen writing today, Jimmy Cornell has sailed over 200,000 miles in more than thirty years on the oceans, including three circumnavigations and voyages to the Arctic and Antarctic. His successful guide to sailing around the world, World Cruising Routes, has helped many aspirational voyagers turn their dreams into reality and follow in his footsteps.
In this new book, Jimmy tells the story of his own travels in great detail. Decades of offshore sailing experience are distilled into this colourful account, which is packed with valuable observations, spiced up with entertaining anecdotes, and illustrated with brilliant photos from along the way.
Much more than just an exciting report of his adventures, Jimmy draws on his experiences to share practical tips for those inspired to follow his example, along with important technical information.
---

Two Years Before the Mast by Richard Henry Dana Jr.
An exciting narrative of a young man's voyage as a common seaman from Boston to California and back in the age of sail. Besides being the most accurate picture we have of the life of seamen of that time, it was influential in improving the living and working conditions of seamen. Two Years Before the Mast is a vivid account of the common sailor's wretched treatment at sea. Other contemporary authors, like Melville, are more literary in their intentions, and officer's and seamen's journals and logs do not describe the commonplace.
Richard Henry Dana jr. (1815-1882), a young man from an influential Boston family, came down with measles while a junior at Harvard College. The illness affected his eyesight, and he left the college in 1834 because he had been told that a sea voyage would aid his failing eyesight. He turned down the offer of a free passage to Calcutta, and back, as a companion to the owner's representative. Instead, he procured a berth as a common seaman on board the brig Pilgrim bound, by way of Cape Horn, for California - then a province of Mexico. 
Back to Noticeboard