This course is accessed online with no additional software required.
Lessons are accompanied by optional professional narration, and notes. 
They are intuitive and easy to follow, whilst more complex subjects are accompanied by interactive animations and graphics to help you gain a full knowledge of each subject in the course syllabus.
Whilst the process of translating a sextant sight into a position line is straightforward it is quite challenging to get to grips with. Unlike classroom training, where time is limited and students progress at different rates, online learning allows you to participate in lessons as many times as you wish to fully get to grips with the concepts.
At the end of each lesson there are excercises containg similar questions to the exam, with detailed and illustrated answers sent to you immediately to confirm your progress and fully prepare you for your final exams.
You can repeat entire lessons and excercises as often as you wish until you are confident that you fully understand each subject.
When you have completed the course you can request the final exam.
This is assessed by our RYA Instructors and detailed feedback is provided in any areas that may require further study within the course.
If you pass the final exam you will be awarded the RYA/MCA Yachtmaster Ocean Shorebased Course Certificate, which will be posted to you.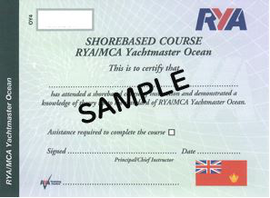 Additional free resits, with suitable Instructor guidance, are available if required.
If you are working towards your Yachtmaster Ocean Certificate of Competence, successful completion of this course exempts you from the written exam.
For most students exam invigilation is not required - see here for examples of when invigilation is required.